OhmniClean Autonomous UV-C Disinfection Robot in hospital setting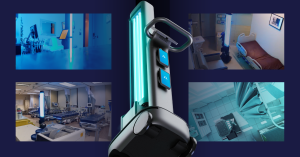 OhmniClean UV-C Disinfection Robot for Hospital Disinfection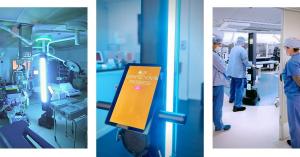 OhmniClean Disinfection Robot
The study's findings have important implications for hospital administrators and infection control professionals as they work to keep patients and staff safe."
— Thuc Vu, CEO and Co-founder of OhmniLabs
SAN JOSE, CALIFORNIA, UNITED STATES, January 31, 2023 /EINPresswire.com/ — A new research study has revealed that the OhmniClean autonomous UV-C disinfection robot significantly improved UV-C exposure on surfaces that were distant, angled, or shadowed compared to non-autonomous strategies. The study was conducted by UV disinfection experts, Clean Sweep Group, Inc., in collaboration with researchers from Providence Holy Cross Medical Center and the University of North Carolina at Chapel Hill.
The purpose was to quantify the difference between manual and autonomous disinfection strategies. "Before this study, the relative performance advantage of autonomous strategies – where a robot like OhmniClean is capable of moving to multiple places in one room on its own – was unclear," states Cody Haag, lead researcher. "So we were interested in showing whether autonomous systems are more effective than what is typically used in a hospital setting."
The research team placed EIT UV Key light sensors in multiple patient care settings and compared the UV-C doses achieved on surfaces using both autonomous and non-autonomous strategies for equal periods of time, according to each manufacturer's recommended protocols.
The OhmniClean autonomous robot more than doubled the overall amount of UV-C light on the sensors and was able to provide UV-C light on surfaces that were entirely shadowed by non-autonomous light emitters.
According to lead researcher Cody Haag, "Our findings are important because UV-C light is more consistently distributed across surfaces with autonomous systems, thus required dosages are achieved quicker and rooms may be disinfected faster than with non-autonomous systems."
Thuc Vu, CEO and Co-founder of OhmniLabs, stated, "We are thrilled to see such significant results from the autonomous UV-C placement. Autonomous technology is likely the most effective technology to help eliminate pathogens and hospital-acquired infections. The study's findings have important implications for hospital administrators and infection control professionals as they work to keep patients and staff safe."
The full study and findings can be found at the following link:
https://www.cambridge.org/core/journals/infection-control-and-hospital-epidemiology/article/abs/comparing-uvc-dosages-of-emitter-placement-strategies-in-a-community-hospital-setting/33E358712EE7280E492ECE43829114E9
About OhmniLabs
Founded in 2015 by robotics experts Jared Go, Tingxi Tan, and serial entrepreneur Thuc Vu, OhmniLabs, Inc. is a Silicon Valley robotics company that produces service robots at scale. With over 4,000 robots deployed worldwide in 50 countries, OhmniLabs made a name for itself by creating a unique, on-demand robot manufacturing model that allows it to design, engineer, and manufacture custom robots based on customer needs at unrivaled speed. The company produces all robots in the USA using proprietary 3D printing processes and boasts a vast portfolio of modular accessories that unlock a world of possibilities. OhmniLabs telepresence and UV-C disinfecting robots are used daily by businesses, medical professionals, schools, and major sports teams around the world.
For media inquiries, please contact:
[email protected]
(650) 420-6468
About Clean Sweep Group Inc.
Clean Sweep Group, Inc (CSGI) is a contracted UV-C disinfection service provider based in Los Angeles, CA, specializing in healthcare and commercial environments. CSGI's UV-C disinfection service is proven to reduce hospital-acquired infections in peer-reviewed studies and has saved hospital clients up to $1.2 million per year in avoided healthcare costs. For more information, please visit
For more information, please call 888-631-0054.
Laura Guy
OhmniLabs
+1 650-420-6468
email us here
Visit us on social media:
Facebook
Twitter
LinkedIn
YouTube
OhmniClean – The Premier Choice in Infection Prevention


Article originally published on www.einpresswire.com as New Study Confirms Autonomous UV-C Strategies Outperform Non-Autonomous Methods in Hospitals