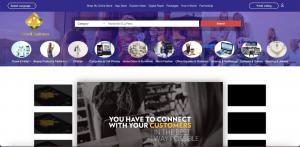 Using its patented technology, Vista4Business helps businesses achieve visibility and gain a reputation.
MANHATTAN BEACH, CALIFORNIA, UNITED STATES, March 14, 2023 /EINPresswire.com/ — Vista4Business is gaining recognition as the future of innovative visual communication seo, and online marketing platforms.
This innovative solution is designed to help businesses bring visibility, improve their online presence and attract more customers by linking their websites to send traffic to their online stores. In today's digital age, businesses must create visually stunning content that resonates with their audience while also optimizing for search engine algorithms.
Vista4Business leverages its patented technology to offer a cutting-edge solution that uses the latest algorithms and AI technology to bring online business solutions to the millions of websites that are currently hidden on the internet waiting to be discovered. As a popular visual communication platform, Vista4Business is well-positioned to help businesses achieve the visibility and reputation they need to succeed in the crowded online marketplace.
With Vista4Business Visual Communication SEO, businesses can streamline their visual content creation process, resulting in customer engagement. Additionally, their solution offers great value, vision, and benefits to their customers, in-depth analytics that provides companies with insight into how their visual content is performing and what improvements they can make.
Recently Vista4Business has joined hands with a company that will bring over 15 million users. This exciting collaboration is projected to bring in nearly a billion dollars in revenue, which will be used to enhance the platform's capabilities and offer even better services to their customers. By teaming up with such a large and respected partner, Vista4Business is well-positioned to take the lead in the highly competitive online presence platform market. With this new development, customers can expect even more innovative features and tools to help their businesses thrive in the online world.
With Vista4Business, businesses can use captivating video ads and marketing campaigns to increase their visibility and reach more customers.
The number of websites online has been rapidly increasing in recent years, and as of the latest statistics, over 1.98 billion websites live on the internet. With so many businesses eager for online attention, it can be difficult to stand out and establish a strong online presence.
When businesses pay for Pay-Per-Click (PPC) advertising; they are essentially bidding on keywords that are relevant to their product or service. However, this process can be highly competitive and expensive, and businesses often end up wasting their marketing budget by bidding on the wrong keywords or not optimizing their ad campaigns properly.
Additionally, clicks on PPC ads do not always translate to actual sales or conversions, so many businesses can relate to the fact that they can end up paying for clicks that don't result in any revenue. This gap is eventually filled by Vista4Business that offers a visible platform which is what online customers are looking for, and doesn't charge for PPC.
Vista4Business Visual Communication SEO will make a significant impact on how businesses approach their online presence. Their team is committed to providing unparalleled customer support, so businesses can get the most out of their platform. We look forward to seeing the impact that Vista4Business will have on businesses around the world.
Vista4Business patented technology, holds exclusive ownership rights to its use and sale. As a result, it provides a competitive edge to Vista4Business and positions them as leaders in the market. With that unique competitive advantage, investors can get in on the ground floor of this expanding trillion-dollar market. Just like early investors in Google, those who invest in Vista4Business now stand to win big in the years to come.
If anyone is interested in learning more about Vista4Business or would like to try it send an email to [email protected]
Business owners and investors can visit https://wefunder.com/vista4business &
https://vista4business.com and be a part of the online presence platforms' future while increasing their revenue.
Adina Brandon
VISTA4BUSINESS
[email protected]


Article originally published on www.einpresswire.com as AI-Powered Vista4business emerges as a reliable visual communication platform to win in Online Space
The post AI-Powered Vista4business emerges as a reliable visual communication platform to win in Online Space first appeared on Social Gov.