Calendar and Appointment App
Chat and Video Meeting Feature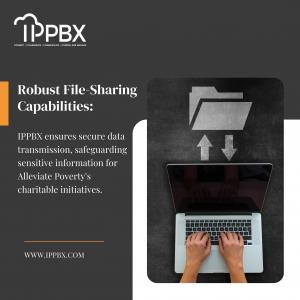 Robust File-Sharing Capabilities
Streamlined Project and Task Management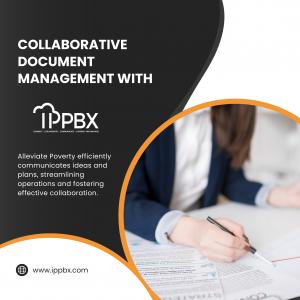 Collaborative Document Management
How the Implementation of a Unified Communication Platform Transformed the Operational Efficiency and Impact of Non-profit Organization Alleviate Poverty
NEW YORK, NY, USA, July 28, 2023/EINPresswire.com/ — The revolution of the digital era has brought innumerable advances, and at the forefront of these advancements is the Unified Communication Platform. The strategic leverage of such a platform can be discerned from the transformative journey of Alleviate Poverty, a New York-based non-profit organization committed to reducing poverty. Their secret to enhancing efficiency and impact on a vast scale is the robust, all-in-one solution provided by the Unified Communication Platform from IPPBX.
Alleviate Poverty, with its three-decade-long legacy of combating poverty in New York City, has been a beacon of hope for low-income families, striving to aid them in their journey toward economic mobility. The organization has been instrumental in the creation and support of effective charitable organizations, optimizing resources to provide necessary assistance. However, the scope of their noble endeavor necessitated a holistic digital solution, which came in the form of IPPBX's Unified Communication Platform.
The adoption of the Unified Communication Platform marked the onset of a transformation for Alleviate Poverty, driving substantial operational changes. While the notion of an all-in-one solution may initially seem as if it veers towards the realm of product promotion, the consequential benefits for Alleviate Poverty are undeniably noteworthy. The platform served as a collaborative tool, optimizing Alleviate Poverty's internal and external communication while streamlining a plethora of tasks.
For an organization that thrives on collaboration, the ability to store, share, edit, and create documents on a unified portal was a significant upgrade. With the platform, team members could seamlessly create and manage content ranging from Word documents to PowerPoint presentations to Excel spreadsheets. This allowed for more efficient communication of ideas and plans, fostering an environment of effective collaboration.
Moreover, the platform offered robust file-sharing capabilities, enabling the sharing of vital files and documents within the organization, and with external partners. To ensure data security, this feature comes with optional password protection and video verification. It was a game-changer for Alleviate Poverty, which often deals with sensitive information requiring careful handling and secure transmission.
Project and task management became streamlined, too. Alleviate Poverty, overseeing various projects across the city, utilizing the platform's project management tool to plan, monitor, and execute their initiatives effectively. The task management tool was equally instrumental in dividing work among team members, setting deadlines, and tracking progress.
Facilitating more than just work-related activities, the Unified Communication Platform also served as a hub for interaction among team members. The portal came equipped with a chat and video meeting features, paving the way for seamless internal and external communication. As an organization that values teamwork and mutual understanding, these features fostered a greater sense of connection within Alleviate Poverty.
However, the benefits of the Unified Communication Platform weren't limited to improving Alleviate Poverty's internal operations. The platform, due to its comprehensive nature, allowed the organization to connect more effectively with the communities it serves. With better file sharing, communication, and project management, the organization was able to deliver more targeted assistance to those in need, thus deepening its impact in the fight against poverty.
The integration of the Unified Communication Platform has indeed been a turning point for Alleviate Poverty, enabling them to navigate the challenges of their mission more efficiently. It is not merely a testament to the potential of the platform but also an inspiring illustration of how digital tools, when leveraged effectively, can profoundly enhance the work of non-profit organizations.
In conclusion, Alleviate Poverty's story illustrates the transformative potential of the Unified Communication Platform. It has allowed the organization to evolve and adapt, amplifying its impact in the process. It stands as a testament to the power of digital tools, particularly in the non-profit sector, in enabling organizations to better fulfill their missions and serve their communities. The example of Alleviate Poverty is, therefore, not just a success story of an organization but a manifestation of the transformative power of technology in service to humanity.
Press Release By: Journo Talk
Gabriel Fegan
Journo Talk
Gabriel.f@journotalk.com
Visit us on social media:
Facebook
Twitter
LinkedIn
Other


Article originally published on www.einpresswire.com as A Catalyst for Change at Alleviate Poverty
The post A Catalyst for Change at Alleviate Poverty first appeared on Social Gov.