Aerospace Luminary Joins Space Tech as Advisor to Ignite Strategy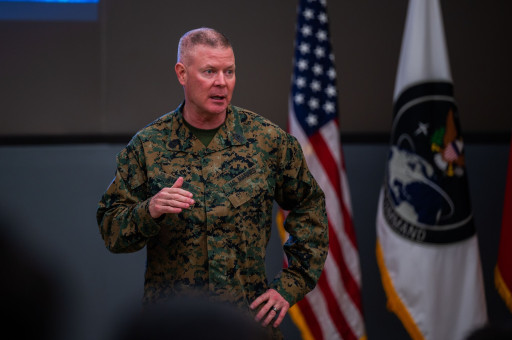 Stalker of USSPACECOM at Vandenberg
PHOTO BY: Tech. Sgt. Luke Kitterman
NAPLES, Fla., September 9, 2023 (Newswire.com) - Space Tech, a leader in space assets, is thrilled to announce the addition of recently retired Master Gunnery Sergeant Scott H. Stalker to its esteemed team. Stalker, renowned for his outstanding leadership within the military, will bring his exceptional skills and strategic prowess to elevate Space Tech's commitment to innovation and excellence.
Stalker is a distinguished figure with an illustrious career and unparalleled leadership and strategic insights. His extensive experience, notably highlighted in his biography, speaks to his exemplary dedication to duty and leadership prowess.
"We are absolutely honored to welcome Mr. Stalker," said Wil Glaser, CEO of Space Tech. "His storied career and unwavering commitment to excellence align perfectly with our mission to push the boundaries of space applications. Mr. Stalker will undoubtedly catalyze our continued growth and innovation."
In his role at Space Tech, Stalker will serve as a vital source of guidance, leveraging his extensive military experience and network to shape the company's trajectory.
Stalker expressed his enthusiasm for his new role, stating, "I'm honored to continue my service in the critical domain of Space by joining the Space-Tech team. I'm grateful to the CEO, Wil Glaser, for this opportunity. During my time at Cyber Command and Space Command, I saw how critical Space was to our military missions and our global economy and way of life. I look forward to working with the women and men of the Space-Tech team as we work to support U.S. and Allied operations in Space. It's an exciting time for all of us, as the sky is no longer the limit."
Space Tech has consistently been at the forefront of pushing the boundaries for a space start-up, pioneering innovative solutions for the Department of Defense. With Scott on board, the company is poised to continue its journey toward making space technology more accessible and impactful.
Contact Information:
Wil Glaser
Founder
wil@space-tech.us
239-249-1840
Original Source:
Stalker Joins Space-Tech