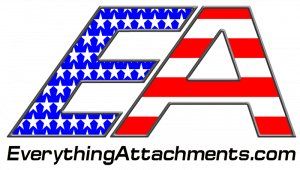 Tractor boom poles have remained unchanged for decades, until EverythingAttachments.com fixed them.
I am very familiar with seeing copycats of my attachments show up on knockoff websites, but have yet to see one match my quality."
— Ted Corriher
CONOVER, NORTH CAROLINA, USA, January 4, 2023 /EINPresswire.com/ — EverythingAttachments.com has long been synonymous with quality equipment. Their 55 inch Wicked root rake grapple has shown that tractor owners all over the world prefer well built attachments vs cheap knockoffs, and their list of industry leading attachments is growing. The owner of EverythingAttachments.com is Ted Corriher, a man who has spent the vast majority of his life on and around tractors and other equipment, and truly knows quality.
Ted has operated EverythingAttachments.com for 15 years with a single mission, to make and sell the best tractor attachments on the planet. Ted holds several patents and trademarks for improving attachments and tools that in most cases haven't been modified in decades. Some of his improvements include ergonomic handles on box blade shanks, better performing landscape rakes, weldless pine needle rake tines, and now a combo post hole digger and boom pole. EverythingAttachments.com uses the trademarks Quality By Design™ and Wicked™ on all their attachments, and according to the reviews they live up to the names. Corriher has already applied for a patent on his new boom pole design to prevent it being copied. Corriher says he is very familiar with seeing copycats of his attachments show up on knockoff websites, but has yet to see one match his quality.
The new "Wicked™" boom pole was engineered out of necessity. Ted had been selling and supporting other brands of boom poles for many years, and was familiar with their issues. He had helped customers learn how to safely set up, adjust, and use their boom poles, and knew the improvements that needed to be made.
Featuring an innovative 2 piece design Corriher's new boom pole could be adjusted for either a higher lift, or a heavier lift depending on the placement of a single bolt. This varies from the old standard single piece design and allows users to customize the boom pole to their lifting needs. Not only is the new Wicked™ boom pole adjustable, but it can easily be converted to a PTO post hole digger without the use of tools.
The full line of products that EverythingAttachments.com makes is available on their website, along with full video tutorials and demonstrations on their YouTube channel.
Everything Attachments started shipping the new Boom Poles in January of 2023, with sales expected to to grow exponentially.
Nate McAbee
TC Corriher Implement Co Inc
+1 828-469-5420
email us here
Visit us on social media:
Facebook
Twitter
Instagram
YouTube
TikTok
Wicked Boom Pole Testing


Article originally published on www.einpresswire.com as Online Attachment Giant Innovates Boom Poles