Promotional Products Division Recognizes Company's History with Signature Challenge Coin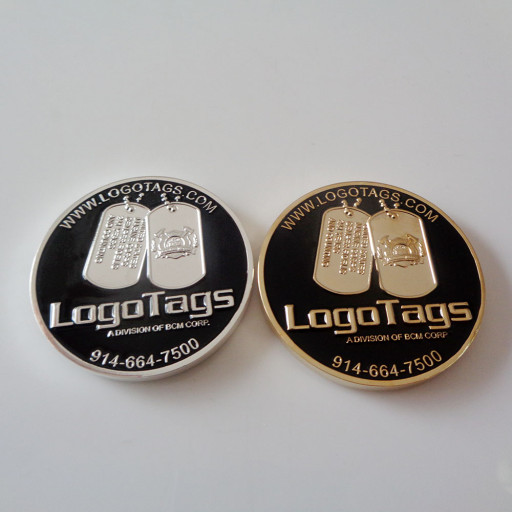 LogoTags Challenge Coins
Custom Challenge Coins by LogoTags.com, a division of Ball Chain Mfg., Co., Inc.
MOUNT VERNON, N.Y., July 10, 2023 (Newswire.com) - LogoTags, the custom promotional products division of Ball Chain Manufacturing Co., Inc. (Ball Chain), has created a custom challenge coin commemorating Ball Chain's 85-year history. LogoTags (www.logotags.com) is part of the family owned and operated business that was formed in 1938 is now the world's largest manufacturer of metal ball chains seen on military dog tags, ceiling fans, handbags, light pulls, etc. Ball Chain makes over 3-1/2 million feet of ball chains per week. All of these ball chains are made in the U.S.A., in Mount Vernon, New York, where the company operates its main production facilities, administrative offices, and customer service department.
Ball Chain was the vision of Franz and Val Taubner, the current owners' great-grandfather and grandfather. The company started in a small garage behind the Taubner home in the Bronx, NY. It has a demonstrated commitment to the American worker and is proud to be the exclusive supplier to the U.S. Armed Forces for the ball chains used in the iconic dog tag ID necklace worn by servicemen and servicewomen.
According to Company President Bill Taubner, "LogoTags was started about 20 years ago with one small machine offering standard text embossed military dog tags to help the sales of our ball chains. Over the years, we have added many new machines, new services, formed partnerships and most recently, acquired a screen printing and embroidery company. We also recently announced a 10% discount on custom challenge coins. This offer applies to published pricing and is available to all branches of the military, as well as all police, fire and EMS units." Challenge coins, which typically bear an organization's insignia or distinct logo, were originally displayed as proof of membership. They remain an integral part of the culture in service departments across the nation.
"We are thrilled to share this custom challenge coin, which honors our history and highlights our design creativity," adds LogoTags Division Manager Dawn Milanese. "We already offer industry leading prices for custom challenge coins, but we wanted to show additional appreciation for service personnel and their ongoing heroic efforts. LogoTags is thrilled to offer the 10% discount to all military branches and local first responders."
As a division of Ball Chain, LogoTags provides a full range of custom promotional products, including dog tags, challenge coins, bottle openers, metal tags, lapel pins, key chains, silicone bracelets, and scores of other custom products. LogoTags performs many services on-site and also has numerous exclusive partnerships with suppliers and manufacturers around the world. These relationships distinguish LogoTags from the field and enable the sales team to extend volume discounts to customers. LogoTags has proudly worked with corporate entities, professional sports teams, universities, and government agencies at all levels. In addition, the LogoTags customer service department prides itself on ensuring that each customer is treated with the greatest care and respect.
For more information about custom challenge coins and other promotional products, visit LogoTags at https://www.LogoTags.com.
Media Contact:
914.664.7500
Bill Taubner, President
Cell: 914-720-3164
Priti Patel, Director of Marketing
Source: Ball Chain Mfg. Co. Inc.
WWW.LOGOTAGS.COM
Company Address:
LogoTags, a division of Ball Chain Mfg. Co. Inc.
741 South Fulton Avenue
Mount Vernon, NY 10550
Contact Information:
Priti Patel
Director of Marketing
[email protected]
914.664.7500
Bill Taubner
President
[email protected]
914.664.7500
Related Images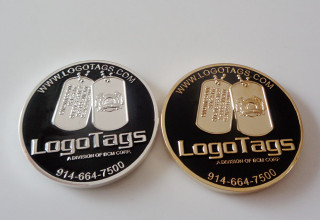 LogoTags Challenge Coins
Custom Challenge Coins by LogoTags.com, a division of Ball Chain Mfg., Co., Inc.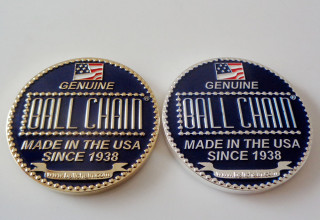 Custom Challenge Coins
Custom Challenge Coins - LogoTags.com, a division of Ball Chain Mfg., Co, Inc.
Original Source:
LogoTags Division Commemorates Ball Chain Manufacturing Co., Inc.'s 85th Year in Business With Custom Challenge Coin