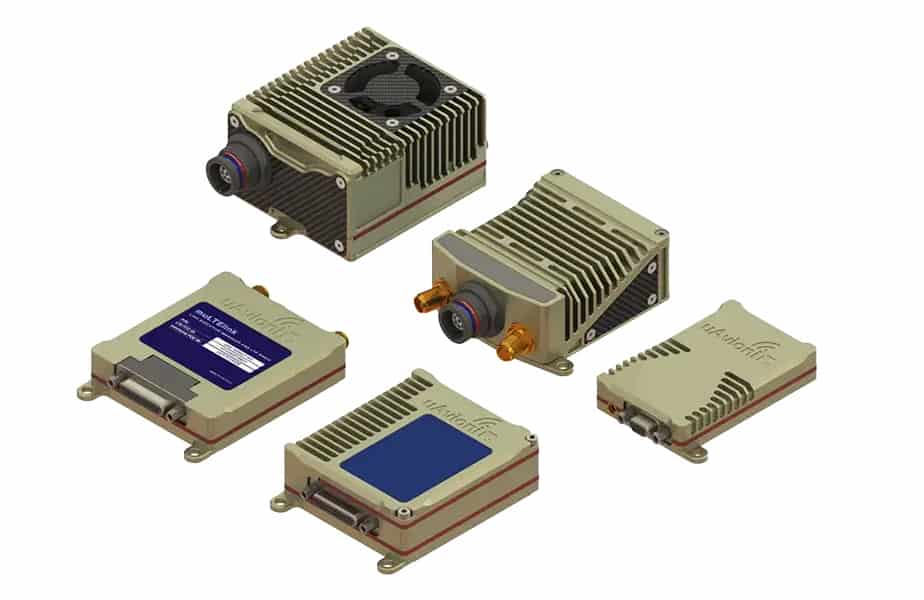 uAvionix has announced that it has updated its range of Command and Control (C2) products for Beyond Visual Line of Sight (BVLOS) Uncrewed Aircraft Systems (UAS). The SkyLine C2 management platform ecosystem is headlined by muLTElink, an industry-first combination of LTE technology with broadcast radio frequency (RF) radios which permit dynamic selection of the best radio link at any given moment between LTE, unlicensed Industrial, Scientific, & Medical (ISM) frequencies, or aviation protected C Band in a single low-SWaP avionic device. Designed for integrated operation with the uAvionix SkyLine C2 management platform, the combination of muLTElink and SkyLine enables a self-healing C2 network capable of both path diversity and link diversity, eliminating lost-link possibilities over broad terrain and altitude ranges.
Core to the C2 ecosystem are two models of muLTElink Airborne Radio Systems (ARS). muLTElink915 combines globally licensed aviation LTE, enhanced with frequency hopping 902-928MHz ISM capability previously offered by uAvionix' microLink radio, while muLTElink5060 combines global LTE with aviation protected 5030-5091MHz C Band for customers holding the appropriate C-band licenses for Control and Non-Payload Communications (CNPC) operations. Each muLTElink also allows up to one external CNPC radio to be optionally connected to allow simultaneous use of all three frequency ranges, higher power C Band operations or future radio integrations. SkyLine fuses available C2 links and manages and monitors the link quality of each enabled link, automatically transitioning in a seamless, lossless, and make-before-break (MBB) roaming event.
uAvionix has also updated and relaunched its previous line of microLink and SkyLink ARS radios under the SkyLink ARS banner. Each SkyLink ARS can operate as a point-to-point radio or integrate with muLTElink and SkyLine for managed C2 operations. SkyLink915micro is the new product name for microLink, while SkyLink915 offers a more robust form factor and Lemo connector for UAS requiring hardened installations.
SkyLink5060micro and SkyLink5060 offer 100mW and 10W 5030-5091MHz aviation protected C Band CNPC options. Currently, C Band radios require specific regulatory approvals from frequency regulators (such as the FCC in the U.S.) for which uAvionix is able to help integrators obtain. SkyLink5060micro and SkyLink5060 conform to standards set forth by RTCA DO-362A and the FAA's draft TSO-C213a and is anticipated to receive similar validated TSO's through other major global aviation regulators.
uAvionix has also renamed existing GRS radios under the SkyLink banner, and introduced two new portable options with LTE backhaul to the SkyLine platform. skyStation915POE and skyStation5060POE are rebranded skyStation2 and SkyLink GRS respectively. Each offers an all-in-one weatherproof transmitter/receiver and antenna connected to SkyLine or your Ground Control Station (GCS) via a Power over Ethernet (PoE) IP connection.
skyStation915LTE and skyStation5060LTE provide the GRS capability in a portable battery powered form-factor and leveraging LTE as the backhaul mechanism to connect to SkyLine and your GCS. The portable GRS solutions leverage common commercial-off-the-shelf battery solutions available at most hardware stores nationwide.
Article originally published on www.unmannedsystemstechnology.com as New Multi-Frequency C2 Solutions for BVLOS Drones